WISDOM OF ANCIENT CULTURES AND THEIR LESSONS TO THE MODERN WORLD
LISTEN TO THE VOICE OF NAVAJO, TIBETAN AND SAMI CULTURES
ABSTRACT
Delaying on the path before reaching the sustainable development goals of 2030 is not allowed, we need to act immediately, quickly and with determination. This does not mean in an abrupt or violent or predatory way, there is a gentle wind that comes from many parts of the world and is moved by the millennial actions of the native peoples of the Earth.
Ancient aboriginal populations, with their own minority languages, with a holistic vision of life, integrated into the cyclical rhythms of life and death, in the contiguity that includes fluidity and vulnerability, accustomed to living in connection with the earth through conservation practices which, as studies show, preserve the biodiversity and richness of the earth. Accustomed for decades, if not centuries, of cultural conditioning and external colonialism to survive, sometimes isolated or locked up in closed territories, or on other people's territories as refugees.
Three native peoples present themselves, ask themselves how to help the positive change that is latent and unite in a single message: to indicate a way towards the search for balance.
They take up the challenge of talking about their fragilities and vulnerabilities and take the opportunity to send a message together: how western cultures could reflect on this cultural exchange as what happened to native cultures is about to happen to western cultures.
THE PROJECT
A network of collaboration between representatives of three native peoples and experts of different disciplines for an interdisciplinary work of research will share good practices and produce outputs of stimulus and reflection for European and international people.
Three trips with three dimensions of research: a sociological research, a pedagogical and an anthropological one with a focus on minority languages.
The project will include three trips to the three villages of origin of the native partners and project leaders with a meeting of families of herders and government representatives.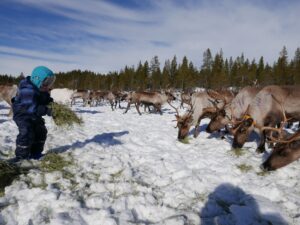 Researches on the field will be held in each country with minority language, land use and climate change experts.
Main issues to be addressed:
● Land preservation (land use issues)
● Climate Change
● Minority language and literature
● Sheep / Yak / Reindeer herding -> Pastoral heritage (relation – collaboration – connection with animals)
An Institute of Languages will realize an App with the three languages interconnected, to be given for free to the native communities.
In 2024 the project will involve a bigger network of collaborators with the L.A. University, with UNESCO Chair of Bologna, with the Chair of Sociology of Alma Mater University in Bologna, with the Oulu University in Finland and with the Arctic University of Norway: this network will offer meetings with students and raising of awareness. The project will include a photographic reportage and a documentary of the cultural exchanges and researches. While the life traditions of the different native peoples will be explained, it will be possible to touch their resilience, developed in difficult contexts and in different conditions.
PARTNERS
Important representatives of the native Navajo, Sami and Tibetan peoples will be our bridges to get directly into their culture: Walter Phelps for the Navajo People; Bhuchung D. Sonam for the Tibetan people; Ketil Hansen for the Sami people. The network of collaborators includes smart researchers and professors: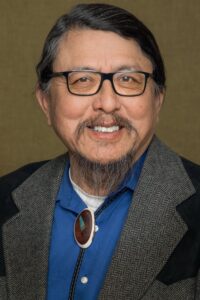 Walter Phelps. Dineh from A'da'iilini (Grand Falls, AZ). Phelps is a self-employed consultant dba Flint Point, LLC since January 2020 based in Flagstaff, AZ. His firm focuses on tribal economic development projects, renewable energy initiatives, tribal related policy development, environmental compliance, federal and university research projects. He serves as a member of the Navajo Genetics Policy Working Group; current board member of the North Country Health Care Centers; former board member of the Dineh Cooperatives Community Development Corporation; former member of the National Institute of Health Tribal Advisory Council; former Chairman of the Little Colorado River Water Rights Committee; former Shareholder with Navajo Nation Hospitality Enterprises; Chairman of the Navajo-Hopi Land Commission; former member of the Bear Ears Intertribal Coalition; and 1999-2002 Vice President of Leupp Chapter; a former Council Delegate 2011-2019 serving two terms with the 22nd and 23rd Navajo Nation Council.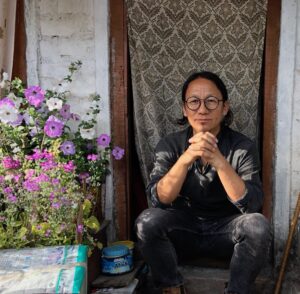 Bhuchung D Sonam is an exile Tibetan writer, poet and multilingual translator. His books include Songs from Dewachen, Songs of the Arrow and Burning the Sun's Braids: New Poetry from Tibet. "As a Tibetan refugee living in the space of others, my language and my culture become the sole link to connect myself to my country – Tibet. I am aware of the beauty of Tibet's natural landscape, the depth of its culture, spiritual tradition and its artistic heritage, and yet this ancient nation faces grave danger of losing its way of life under a foreign occupation.
This project to find common grounds between Navajo, Sami and Tibetan cultures and their outlooks towards nature is as exciting to me as it is timely. These ancient cultures and their resilience have much to offer to the modern world that is by and large shaped by Western culture. At a time when the world faces global climate change crises and an unbridled culture of consumerism, the Navajo, Tibetan and Sami ways of lives may hold some keys to a more peaceful and happier future".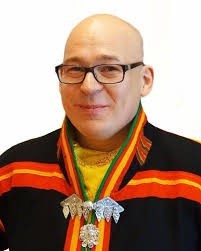 Ketil Lenert Hansen is an indigenous (Sámi) epidemiologist and public health professor at UiT The Arctic University of Norway (100%) and Professor II (20%) in Indigenous Pedagogy at Institute of Sámi Teaching Education and Indigenous Journalism Study, Sámi University of Applied Sciences, with over 20 years of mixed methods research experience within the Norwegian indigenous Sámi people. This work has included research on discrimination, bullying, health inequality, violence, disability, resilience, child welfare, somatic and mental health among Sámi children, youth and adults. Lenert Hansen has received several awards for my circumpolar research, eg.: Jens Peder Hart Hansen Award (2012) and Dissemination prize from the Faculty of Health Sciences, UiT (2018).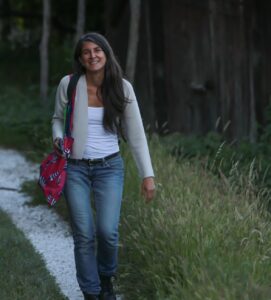 Valentina Musmeci, mother of three, is a writer and photographer; she worked for specialized magazines during the past 25 years; today she follows specific projects on native peoples, climate change and anthropology. 2012/23 she is caring an important photographic research on the transhumance of sheep in Italy from the Dolomites to the Adriatic Sea, published in a book. She published six books, her last "Storie di Clima" for Edicicloeditore in 2020 includes a photographic research into Pastoral Herding (sheep herding and reindeer herding) through the climate change lens, thanks to Navajo people and Sami people. She is a ultralight pilot. www.valentinamusmeci.it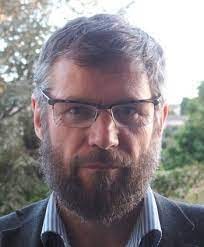 Nicolas Tournadre is Emeritus Professor of linguistics at Aix-Marseille University and member of the University Institute of France (IUF). He conducts research in the field of linguistic typology and has undertaken extensive fieldwork in Asia, particularly in China, India, Nepal Bhutan and Tajikistan. His research interests include the study of the syntax-semantics interface as well as ergativity and more recently TAM and evidentiality. He has given a series of talks about the relations between languages and their environment. N. Tournadre is a specialist of the Tibetic languages but he has also worked on languages belonging to other families such as Indo-Iranian, Slavic and Semitic. His major books include L'ergativité en tibétain moderne [ergativity in Modern Tibetan] (Peeters, 1996); Le Prisme des langues (Asiathèque, 2014); Sherpa-English and English-Sherpa dictionary.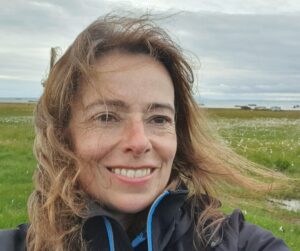 Anu Soikkeli is an associate professor in Arctic Architecture and Environmental Adaption at Oulu School of Architecture, University of Oulu, Finland. She was born in Lapland in Finland, but her roots are in old Karelian culture and the Karelia region. Research has always been a way to seek and build her identity. Her research interests include the history of architecture, the estoration of wooden buildings, the identities of historic towns and villages, and human-environmental relationships. Soikkeli promotes local knowledge in planning processes and emphasizes how community driven policies and practices in built environments can positively support human well being. As an architect, Soikkeli's particular interest is in the significance of the built environment in forming and preserving the identity of places and people and how to support that in planning by articipatory methods. Furthermore, she is interested in the importance of memories and awareness of the previous but lost built environment.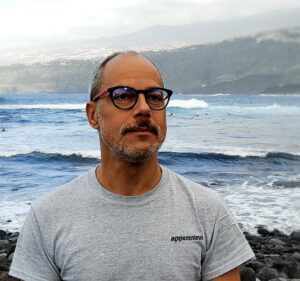 Pierluigi Musarò is Full Professor of Sociology, Culture and Communication at the Department of Sociology and Business Law, University of Bologna, Italy. He is Honorary Professor at Melbourne University, and Research Fellow at the London School of Economics and Political Science, at the Institute for Public Knowledge New York University (USA), and at Monash University (Australia). He is author of several books and papers in the field of media and migration, borders and human rights, performing arts and active citizenship. He is President of the Italian NGO YODA (www.gruppoyoda.org); founding Director of IT.A.CÀ_migrants and travellers: Festival of Responsible Tourism (www.festivalitaca.net); founding member of the Italian Network against Hate Speech (https://www.retecontrolodio.org).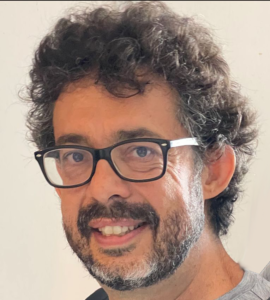 Carlo Zoli, born in Florence in 1969, is an electronic engineer. Since 2005 he has been working with computational linguistics (NLP); in 2011 he founded Smallcodes with the mission of bridging the digital divide for small languages, especially in the lexicographic field. A passionate linguist, he is an expert in language policies for the defense of minorities. He currently directs more than 12 different dictionary projects
---
OUTCOMES
The project aims to recognize the importance of survival and recovery of native cultures.
The project wishes to connect the three identified cultures going beyond the concept of recognition to create exchanges of good practices.
The project aims to raise public awareness on a local and global level both on the already declared emergencies of climate change and biodiversity loss, but also and above all on the always connected linguistic emergency that is little paid attention to by the media and research.
The project aims to involve young people connected to the life experiences of poets, writers and authors of these three native cultures activating poetry and literature workshops in schools and public spaces
AUDIENCE AND TARGET
The project will touch audiences on four levels of constructive positive contamination. The first and most profound level is that of the participants and their families. The second level is made up of the participants in the activities of cultural exchanges, trips and round tables within the project. Visiting schools will enlarge our target. The third level of contamination affects the participants in the presentations of the project. The fourth and latest level of dissemination of the values of the project will travel through the spectators of the presentation in the three countries and thanks to a documentary that will be realized during the project. Bringing change will be implicit in the development of the project. There will thus be two steps of measuring the impact: First, qualitative one, which measures the number of downloads that the App will have; the second which quantifies the number of people who will fill out an online questionnaire (with a deeper insight given by the answers to the questionnaire themselves).

FINAL MESSAGE
The main goal of the project is to spread awareness through a useful comparison that allows understanding of the values of native cultures as what happened to native cultures is about to happen to western cultures. The project looks forward to give back something to the communities that will host the project: small actions for public health like good traditional sustainable nutrition practices, gym practices for health; an application for the transmission of minority languages is being studied by a specialized company.
Native cultures have got a lot to teach us: hear the story the gentle wind can teach us.
The project has developed a network that includes three Universities, including Anu Soikkeli from the Oulu University Finland, Pierluigi Musarò form the Sociology Chair in Bologna Italy, Massimiliano Tarozzi from the UNESCO Chair in Bologna Italy, Nicolas Tournadre from the Toulouse University France.
TIMING
April 2024: trip to Norway, Sami Village
May/June 2024: trip to Arizona, Navajo Reservation
May 2025: trip to India, Ladakh Valley
CONTACTS
For any information feel free to write:
Valentina Musmeci, Trento, Italy lupo3lupis@gmail.com
Walter Phelps, Navajo Nation, USA nakaidinee@yahoo.com
Bhuchung D. Sonam bhuchungdsonam@gmail.com
In collaboration with